Category Archives:

Writing
Here are some sample software reviews and magazine articles that rmharrington has published in the past.
Continue reading →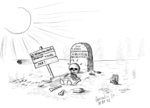 Keeping A Watch For The Flowers In The Humor. Take some time and enjoy the simple things in life. Find a morally wholesome daily comic scripts and let life have a break.
Continue reading →
Morals Often Reflect Christianity, But Is A Life Based Upon The Golden Rule An Assurance Of Christian Faith
Judge Parker is a morally guided adventure tales penned by longtime writer Woody Wilson.
This man, I thought, surely knows the God of creation.
Continue reading →